Apple //e with Disk ][ Drives and Apple Monitor ///
This seems to be an Apple //e "early" model i managed to buy from a local auction site. Bought it at somewhat hefty price in a non-working condition, hoping to get it working in future.
It was housed inside a "security" rack, which contained two small barrel locks, that I had no keys for.
TODO pics.
Motherboard
Firstly, all chips were socketed which made my life a lot easier.
Board date: 3483
Board code: 820-0064-B © 1982
Board model: 607-0164
Board manufacturing date: R8332 (Made in Singapore)
It also has weird "G" sticker in the bottom of the mainboard.


Chips
Keyboard ROM: 342-0132-B (datecode: 8314, md5sum: 349390abf60bbef4b59b47341e829905)
Video ROM: 342-0133-A (datecode: 8317, md5sum: 2fbc2be2a84ea742de37be9925c7d7cd)
EF ROM: 342-0134-A (datecode: 8320) *
CD ROM: 342-0135-A (datecode: 8322) *
CPU: 369-6502-A (datecode: 8235)
*: Eventually tracked down that those two chips were bad :(
Case
Case itself was in quite a good condition, although all the two rubber pads in the back were removed and extra 4 circular rubber feet for security bolts were glued to the bottom.
Model number: A2S2064 / 120V, 60Hz, 1Amp
Serial number: 1A2S2-434628
Serial label: 825-0406-A
Date stamped inside stainless steel metal bottom under motherboard: 05J83 R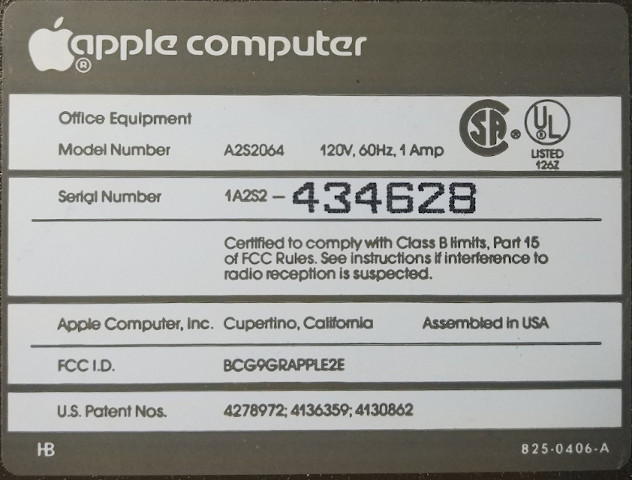 Power Supply
Power Supply 605-5703 Serial # 1572092 (on label with Apple Computer Inc. stamp)
Dynacorp, 606-5001 (120VAC, 60Hz, 1AMP)
Serial number: 041411
Date code: 8336